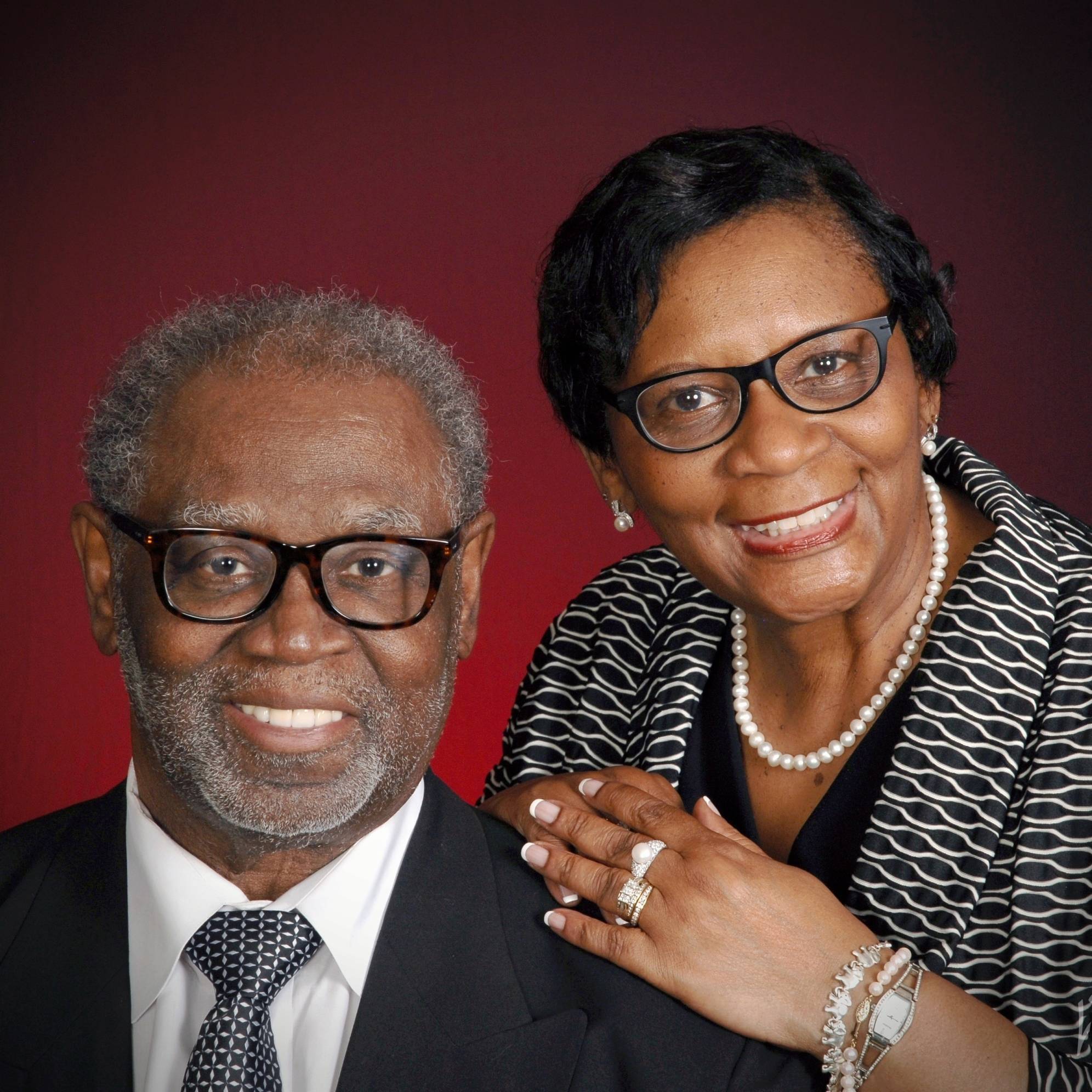 Dr. Bonita R. Durand, PhD '02, MS '93
The Drs. Henry J. and Bonita R. Durand Scholarship Fund was established in 2018 to encourage the educational ambitions of graduates of the Cora P. Maloney College at the University in Buffalo who were pursing advanced studies in Education or in Urban and Regional Planning at the Graduate School or Education and/or the School of Architecture and Planning at UB. Initiated through gifts received in honor of Dr. Henry J. Durand's service to the university upon his retirement as senior associate vice provost of undergraduate education and executive director of the Cora P. Maloney College, the scholarship was endowed through the financial generosity of Drs. Durand.
Dr. Henry Durand was born on June 14, 1948 in Griffin, Georgia. He relocated to Cincinnati, Ohio at the age of three with his family. He lived in Cincinnati until he moved his family to Buffalo, NY in November 1990. Dr. Durand's education began in the Cincinnati Public School System. In 1960 he entered Walnut Hills High School where he attended from the 7th through the 12th grades and graduated. He was an excellent student and a superior athlete at Walnut Hills, wining many local, city and state honors for his football prowess. His academic achievements and athletic talent earned him a scholarship to Denison University in Granville, Ohio where he was a starting member of the varsity team for four years. Henry also has the distinction of being the first black captain of the otherwise all white Denison Football team. He became the chief minister of the first Black Student Union (BSU) at Denison. BSU's activities brought about many social and educational improvements for the entire student population.
Dr. Henry Durand received a of Bachelor of Science Degree in Sociology from Denison University in 1970; a Master of Education in the Reading and Instructional Specialist Program from Xavier (Ohio) University in 1976; and a Doctor of Education in Educational Foundations and Leadership from the University of Cincinnati in 1988. He also completed a certification in the Management Development Program from the Harvard University Graduate School of Education in 1996.
Dr. Henry Durand was selected to become the director of the Educational Opportunity Program at the University at Buffalo in 1990. Over his twenty-four career he held progressively advancing positions ending with the position of Senior Associate Vice Provost of Academic Affairs and Executive Director of the Cora P. Maloney College at the State University of New York at Buffalo (UB). Cora P. Maloney College (CPMC) enrolls and/or serves about 3,500 of the UB undergraduate student population. CPMC consisted of four divisions encompassing 11 major programs consolidating the missions of 1) access and opportunity, 2) orientation, and first year student services, 3) academic support and retention to graduation, 4) academic enrichment and undergraduate research, 5) community involvement and community service, and 6) preparation, and motivation for pursuing graduate study
Dr. Durand retired from his administrative career in 2014, to become a Clinical Associate Professor in the Graduate School of Education. His course offerings included the quantitative research core courses Statistical Methods for Educational Research, Survey Research Methods and Statistical Analysis Using SPSS. Additionally, in his discipline of Educational Sociology, he taught classes in Educational Stratification, African American Students in Higher Education, and American Pluralism.
His service to the educational community included the SUNY Faculty Senate as a University Senator serving on the Undergraduate Research and the Diversity and Equity Committees; member of the NYS Deputy Commissioner of Education Advisory Committee on Equity and Access; President of the Council of EOP Directors (CEOPD); co-founder and executive board member of Opportunity Programs United; chair of the SUNY College Outreach and Placement Consortium of Buffalo. He was also the president of the Tri-State Consortium of Opportunity Programs, a nonprofit organization of opportunity program professionals from New Jersey, New York and Pennsylvania. He has a variety of publications, technical journal articles and reports, and book reviews in his portfolio.
Dr. Henry Durand received numerous recognitions throughout his career including the SUNY Chancellor's Award for Professional Excellence, the Milton Plesur Award for excellence in undergraduate teaching, the Western New York Minority Bar Association Educator Award, the Grassroots' Cora P. Maloney Community Service Award, the Buffalo Urban League Family Life Award, and many others. He is a Denison University Citation Award recipient and has been listed by Who's Who in American Education, Who's Who in Black America, Who's Who in Training and Development and Who's Who in American Martial Arts.
In 1979 Dr. Henry Durand married his high school sweetheart, Bonita R. Cobb. The Durands were married for 39 years and were blessed with four children, nine grandchildren and nine great grandchildren.
Dr. Henry J. Durand passed away on December 28, 2018 after a stellar career of scholarship and service to his university and to the community.
Dr. Bonita R. Durand was born in Cincinnati, Ohio and also attended Walnut Hills High School where she and Henry met. She is a retired college administrator and faculty member, serving for 24 years in these capacities at Buffalo State College.
Dr. Durand served five presidents as chief of staff at Buffalo State over her career. In addition, she has been a member of the graduate faculty at the college in the Higher Education and Student Affairs Administration Department, teaching courses on the history of American higher education, and strategic planning and finance in higher education. Dr. Durand has provided leadership to countless committees and working groups at Buffalo State, including the Middle States accreditation steering committee, the presidential inauguration support committees, the facilities master planning committee, and the presidential search advisory committees. She has also served as the faculty adviser for the collegiate chapter of the National Council of Negro Women at Buffalo State and to this day is the primary adviser for the Gamma Kappa Chapter of Delta Sigma Theta Sorority Inc.
An active member of the Western New York Community, Dr. Durand has dedicated her time to numerous organizations across the city and region. She was secretary for the City of Buffalo Citizens Advisory Commission on Reapportionment in 2011, a member of the Mayor of the City of Buffalo's 2010 Complete Count Census Committee, a charter member of the Buffalo Niagara Economic Development Corporation board of directors, and a member of the Western New York Women's Fund board of directors.
In 2014 Governor Andrew Cuomo appointed Dr. Durand to the Niagara Frontier Transportation Authority Board of Commissioners. She held this position until 2020. Additionally, she joined the board of directors of the Community Foundation for Greater Buffalo in January 2015 where she currently chairs the Communities of Giving Legacy Initiative, a fund of the Community Foundation.
Dr. Durand received the Bernice Poss Award in 2012 from the Western New York Women Leaders in Higher Education for her contributions as both an administrator and faculty member to the field of higher education. In 2014, The Drs. Durand were recognized with Buffalo Urban League's Family Life Award. In 2016, she received the Unlimited Possibilities Overcoming Poverty Ministry's "Women Touching the World Award" and the National Federation for Just Communities' Community Leader Award.
Dr. Durand is a lifetime member of Delta Sigma Theta Sorority Inc., an international public service organization. She has held numerous offices at the local, regional, and national levels. Most of her activities in this role focus on training, advising, and mentoring both alumnae and collegiate members of the organization throughout upstate New York and the Eastern region. In 2020 she strengthened her commitment to serving her community by becoming a member of the Erie County (NY) Chapter of the Links, Inc.
In 2002, Dr. Bonita Durand earned the degree of Doctor of Philosophy from the University at Buffalo. Her area of concentration is higher education administration with a focus on institutional advancement. Dr. Durand also holds a Master of Science degree in applied public affairs from the University at Buffalo and a Bachelor of Arts degree in business administration and curriculum development from the Union Institute in Cincinnati, Ohio. In 2010, she received certification in educational management and leadership from the Graduate School of Education at Harvard University.
The Drs. Durand and their children believe in the importance of supporting and encouraging the growth and development of students of color and of social and economic disadvantage who have demonstrated talent and potential but who, through no fault of their own, face economic and social challenges. They believe in paying it forward.
The Durand Family motto is "To those to whom much is given, much is required". Drs. Henry and Bonita Durand have committed their lives work to this ideal.