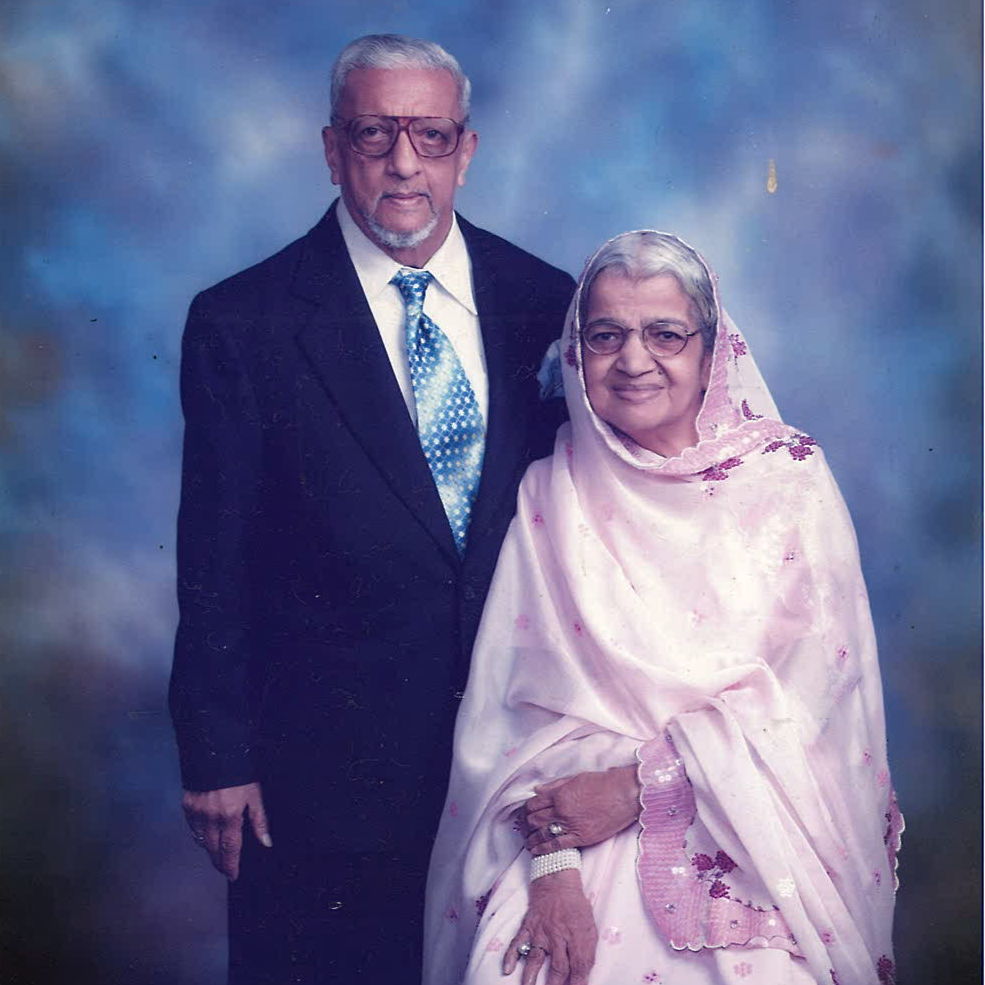 Amena and Hatim Nakoda, and Moeez Nakhoda, BS '91
Moeez Nakhoda is a director with a Singapore-based company that trades in such diverse commodities as spices, petrochemicals, foodstuffs, educational books and wastepaper. In 2007, when he and his family created the Amena and Hatim Nakoda Family Scholarship Fund, Nakhoda credited his UB management education with giving him the confidence and skills to present himself effectively with peers and clients. He believes that because UB has a student population representing all nations and races, it teaches effective and concise communication with the culturally mixed workforce of a typical modern global business.
Arthur and Louise Wasserman; and Mindy Wasserman
Arthur, who died in 1998, was an active member and president of the Balfour Lodge of B'nai Brith, a life member of Hadassah, an honorary life member of the Hillel Foundation Board, a board member of the Foundation of Jewish Philanthropies, a member of the University at Buffalo Founders Society and a trustee of Temple Sinai. He and his first wife Louise, who died in 1995, established the Arthur and Louise Wasserman Foundation in 1981, which contributed to numerous religious and secular endeavors. The foundation created education scholarships as well as awards recognizing excellence for workers who provide care for hospital and nursing home patients. Arthur later married Mindy Wasserman Singer, BA '61, and together they continued to support the Arthur and Louis Wasserman Fund. Following Arthur's death, Mindy has continued to generously support UB, the UB School of Management and UB Athletics.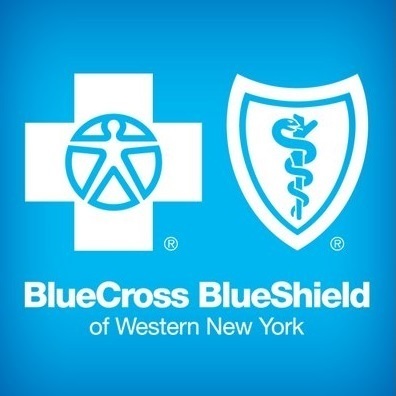 BlueCross BlueShield of WNY
BlueCross BlueShield of Western New York established a scholarship fund in 2008, which supports graduates of the Buffalo Public Schools who demonstrate financial need as incoming UB freshmen. Announcing the multi-year endowed fund, then-CEO Alphonso O'Neil-White noted that Blue Cross Blue Shield, one of the region's leading health plans, believes investment in student financial aid is an investment in the future of Western New York. One of the company's continuing goals is to enable more local students to take advantage of academic opportunities in Buffalo. "With a college degree, these young people will be better prepared to build successful careers and lives in Western New York, adding to the health and well-being of our community," said O'Neil-White.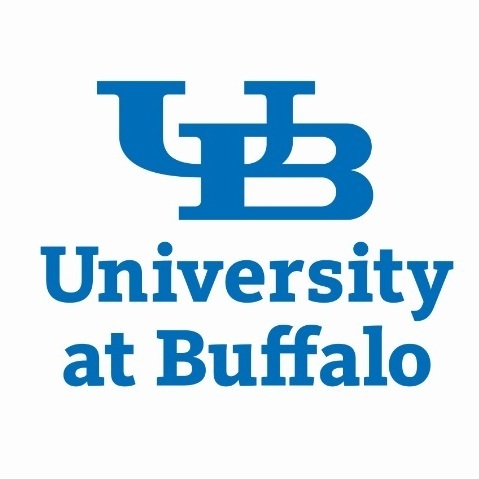 Charles A. Bauda, MD '42 and Philomena Bauda
The late Charles A. and Philomena Bauda established numerous student support funds in the Schools of Medicine, Pharmacy, Engineering and Nursing. Charles Buada recevied his degree in medicine from UB in 1942 and Philomena earned earned a nursing certificate from UB in 1939. Dr. Bauda opened his practice in 1944 on Niagara Street in Buffalo, was a family physician affiliated with the Sisters of Charity Hospital. He and Philomena later retired to Florida. Dr. Bauda was one of 12 siblings and several of these funds bear the name of his brothers and sisters.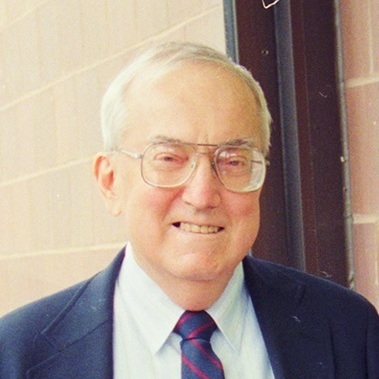 David M. Benenson
The David M. Benenson Memorial Scholarship Fund was established by the wife and daughters of David M. Benenson to honor his lifelong dedication to fostering academic excellence in the field of engineering. Scholarships from the Benenson Fund are intended to help students who have completed internships achieve their academic and professional goals.
Benenson was a member of the faculty in the UB School of Engineering and Applied Sciences Department of Electrical Engineering for 35 years. He was chair of the electrical and computer engineering department from 1983- 89 and founded of the school's highly successful Cooperative Engineering Program, serving as its first director.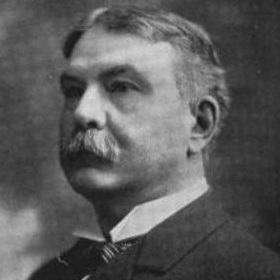 De Alva Stanwood Alexander and Anne Bliss Alexander
The late Mrs. Anne Bliss Alexander established a scholarship fund in honor of her husband, De Alva Stanwood Alexander (1846-1925), an American journalist, lawyer, historian and member of the United States House of Representatives. A native of Maine, at 15 Alexander enlisted in the army, serving from 1862 through the end the Civil War. He graduated from Bowdoin College in 1870, then worked as a newspaper editor in Indiana, where he befriended Sen. Benjamin Harrison. Alexander studied law and was admitted to the Indiana bar in 1877. Harrison was elected as the 23rd president of the United States, and in 1888 named Alexander the U.S. Attorney for the Northern District of New York. Alexander married Anne Gerlach Bliss, his second wife, in 1893, several years after moving to Buffalo. In 1896, Alexander was elected as a U.S. representative to Congress for New York's 33rd district, and served for seven terms. He wrote Political History of the State of New York, a four-volume work completed in 1923.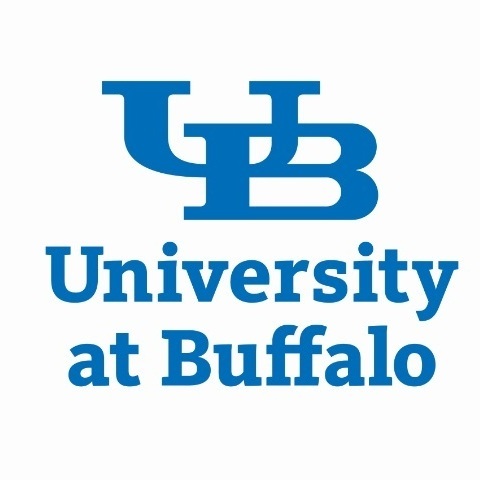 Frederick J. Schoelkopf and Toby Bloom Schoelkopf, BA '72
In 2005, Frederick J. Schoellkopf established the Toby Bloom and Frederick Schoelkopf Award for Study Abroad to honor the memory of his wife, Toby Bloom Schoellkopf, BA '72. The fund provides an annual award to an undergraduate student in the Department of History in the UB College of Arts and Sciences studying abroad in an accredited summer, semester, or yearlong program who demonstrates financial need.
In 2000, Toby Bloom Schoellkopf established the Julius Bloom Scholarship in memory of her father, who worked for several well-known printing companies, had a lifelong interest in the typographic arts and helped organize the first international conference of typographical arts in the mid-1960s.
Toby Bloom Schoellkopf was a longtime UB administrator, who held various positions including assistant to the dean of the Faculty of Arts and Letters, director of the Office of Disability Services and assistant director of the Living Well Center. She died in 2005. When he retired from UB, Frederick Schoellkopf was associate director for operations for University Residence Halls and Apartments.
Gustin L Reichbach, BA '67
After majoring in political science at UB, where he was elected to Phi Beta Kappa, Gustin Reichbach graduated from Columbia Law School. He was active on the Columbia campus during anti-Vietnam War protests, which led to a two-year delay in his admission to the New York State Bar. As a private lawyer, Reichbach won a landmark case that opened loft spaces in New York City for legal residence. He was elected to the Civil Court of the City of New York in 1990 and to the New York State Supreme Court in 1998. In 2003-04, he was an international judge for the United Nations Mission in Kosovo, presiding over war crime cases growing out of the Balkans Wars of the 1990s.
The Gustin L. Reichbach Memorial Endowment Fund was established by Reichbach's UB Alpha Epsilon Pi fraternity-bother Paul Nussbaum, BA '67, founder and CEO of Patriot American Hospitality, and founder and CEO of Waramaug Hospitality, as well as other donors, to honor Reichbach after his death in 2012.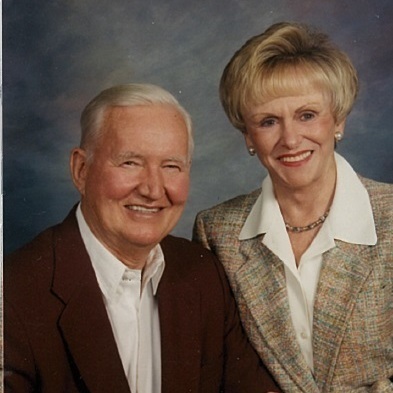 James W. McLernon, BS '50
In 2007, James W. McLernon, BS '50, established the Samuel R. McLernon and Nancy McLernon Memorial Scholarship to provide scholarships to students from Kenmore West High School seeking to pursue an engineering education at UB's School of Engineering and Applied Sciences. He also established the Nancy and James McLernon Superior Scholars Program.
James W. McLernon, a Kenmore, NY native and Kenmore West High School graduate, is a retired automobile company executive. He started his career with a summer job on the machine floor at the Chevrolet engine plant in Tonawanda, N.Y. in 1949 while still a UB student. By the time he retired in 1997, McLernon had held positions as general manufacturing manager of GM's Chevrolet Division, president and chief executive officer of Volkswagen of America and chair of the board of American Axle and Manufacturing. McLernon appreciates the importance of financial assistance for undergraduates. In addition to his summer job with Chevrolet, while studying at UB's newly established engineering school, McLernon drove a school bus before and after class, worked at a golf course and as a Christmas-season mail carrier.
Jim established the Samuel R. McLernon and Nancy McLernon Memorial Scholarships in memory of his late brother and late wife. His brother, Samuel, who attended Kenmore West High School, was a World War II veteran and was a long-time principal at Kenmore East High School. Jim's late wife, Nancy graduated from the UB School of Nursing.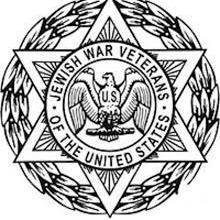 Jewish War Veterans of America Post 25
Jewish War Veterans of the USA (JWV) is the voice of the Jewish serviceperson and friend to all veterans. Formed in New York in 1896 after the American Civil War, the Jewish veteran group was known as the Hebrew Union Veterans Association. The union fought anti-Semitism in the Armed Forces and the general public. Seeking to prove that Jews do proudly serve and fight in the US Armed Forces, the union evolved with each war, eventually taking today's name, Jewish War Veterans of America. With over 120 years of service, JWV is the oldest, continuously operating Veteran Service Organization in the country. JWV continues to live its mission – to preserve the Jewish American military legacy, to protect veteran rights, to spread Americanism, and to promote community – in 250 posts across the nation and in Israel.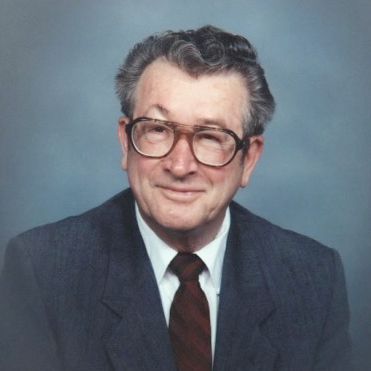 Jim Smist, BS '80 and Mary Smist
Jim Smist, BS '80 and Mary Smist established the Felix Smist Scholarship Fund in honor of Jim's late father, Felix Smist. Felix persevered to complete his mechanical engineering BS in 1965 from UB, after 16 years of part-time study. During this time, he worked full-time and raised a family. As such, the Felix Smist Fund pays up to six years of tuition and gives preference to part-time students in the School of Engineering and Applied Sciences.
Jim Smist who received a bachelor of science degree, summa cum laude, in chemical engineering from UB, earned an MBA from Harvard Business School. He is president and co-founder of Dean & Company, a management consulting firm that works with large and small corporations. Jim was the recipient of the 2012 SEAS Dean's Award and the 2017 Samuel P. Capen Award, one of the UB Alumni Association's most prestigious awards.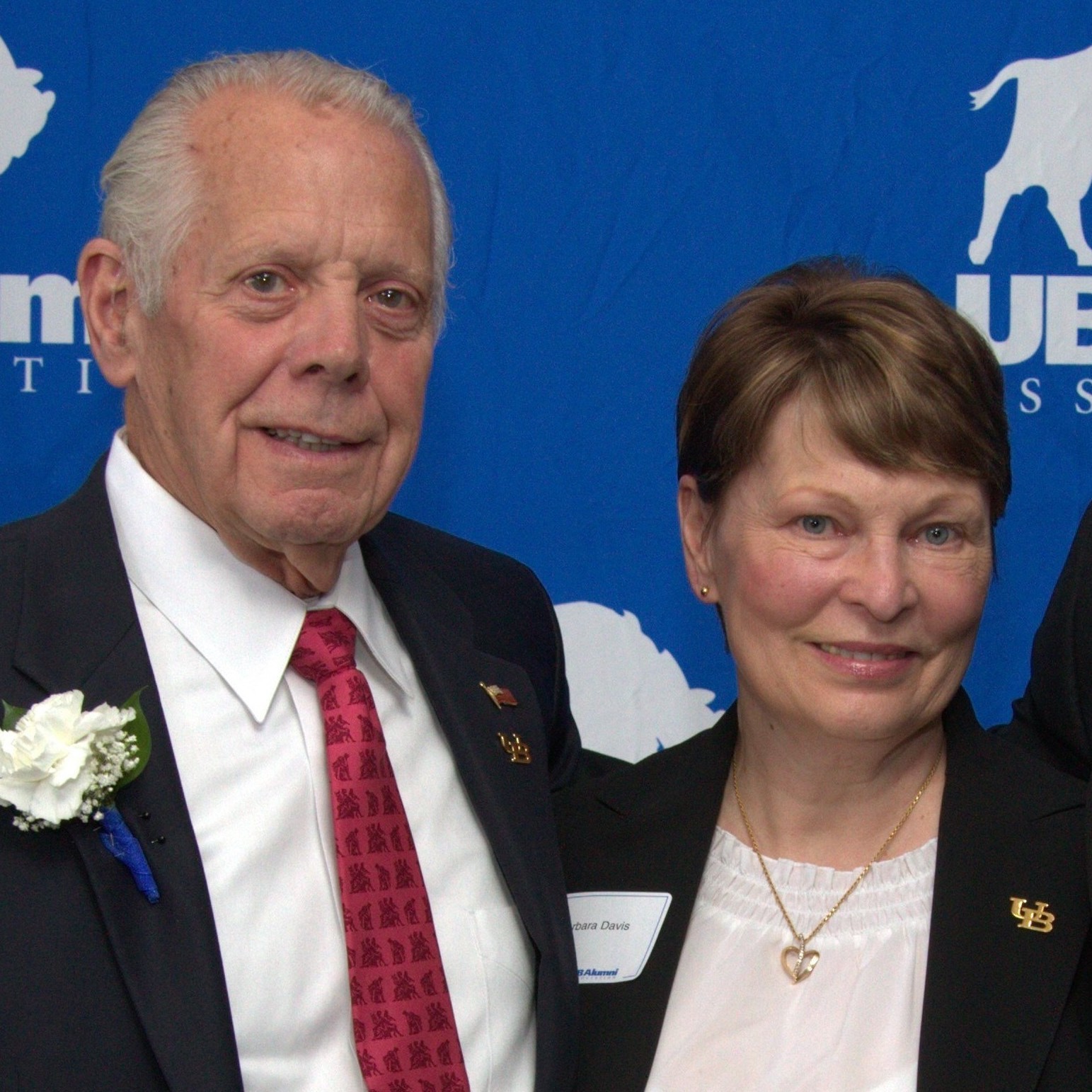 John R. "Jack" Davis, Jr., BS '55, and Barbara J. Davis
In 2012, Mr. John R. "Jack" Davis, Jr., BS '55, industrial engineering, and Mrs. Barbara J. Davis established a scholarship fund to show their appreciation to UB's School of Engineering for preparing Mr. Davis for what has been a successful career. The Barbara and Jack Davis Engineering Education Endowment Fund provides scholarships for undergraduate engineering students , with a preference for those from Western New York who need financial assistance.
In 1964, Davis founded I Squared R, which is now the nation's only manufacturer of silicon carbide and molybdenum disilicide heating elements. I Squared R products are used in high temperature industrial electric furnaces to manufacture ceramics, glass, powder metal products, aluminum die castings and high temperature research. In addition to his business career, Jack has been active in Western New York civic life, running four times unsuccessfully for New York's 26th District congressional seat in the U.S. House of Representatives. In recognition of his support, UB named the newest building housing the departments of engineering and computer science Davis Hall.
Joseph P. Esposito, BA '75
In 2015, Joseph P. Esposito, BA '75, established a fund to provide undergraduate scholarships to students from the Greater Washington, DC area who enroll in the UB College of Arts and Sciences.
Joseph Esposito is a partner with the law firm Hunton and Williams in Washington, DC, focusing on complex business litigation. While earning his BA magna cum laude from the University at Buffalo, he served as city editor of the Spectrum and was elected to Phi Beta Kappa. He earned his JD from the New York University Law School. He is an elected member of the American Law Institute. Esposito established the scholarship because while the Washington, DC area has the second largest number of UB alumni outside New York State, it is not well known to prospective college students there. He credits his UB education with his career success and wants the scholarship to help to bring UB to the attention of Washington area high schools and students, encouraging deserving students to apply.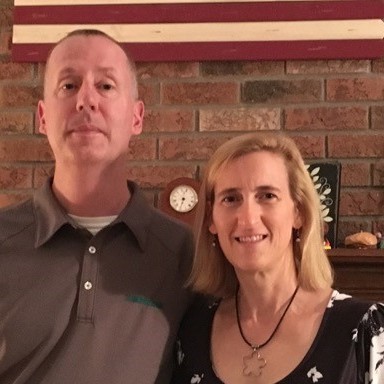 Lawrence and Amanda Megan, MBA '00
In 2004, Lawrence and Amanda Megan, MBA '00, established a fund to provide an annual scholarship award to a student from the City of Buffalo with significant financial need who plans to pursue an education in the UB School of Engineering and Applied Sciences.
Amanda Megan has been a manager at Rich Products since 1995. In addition to her UB MBA, she holds a BS in food science from Cornell University. Larry Megan is the head of Praxair Digital, leading Praxair's digital innovation activities. Larry Megan holds a BS in chemical engineering from Worcester Polytechnic Institute and a PhD in chemical engineering from the University of Connecticut. The Megan's established the award to promote higher education in a technical area for Buffalo City high school students.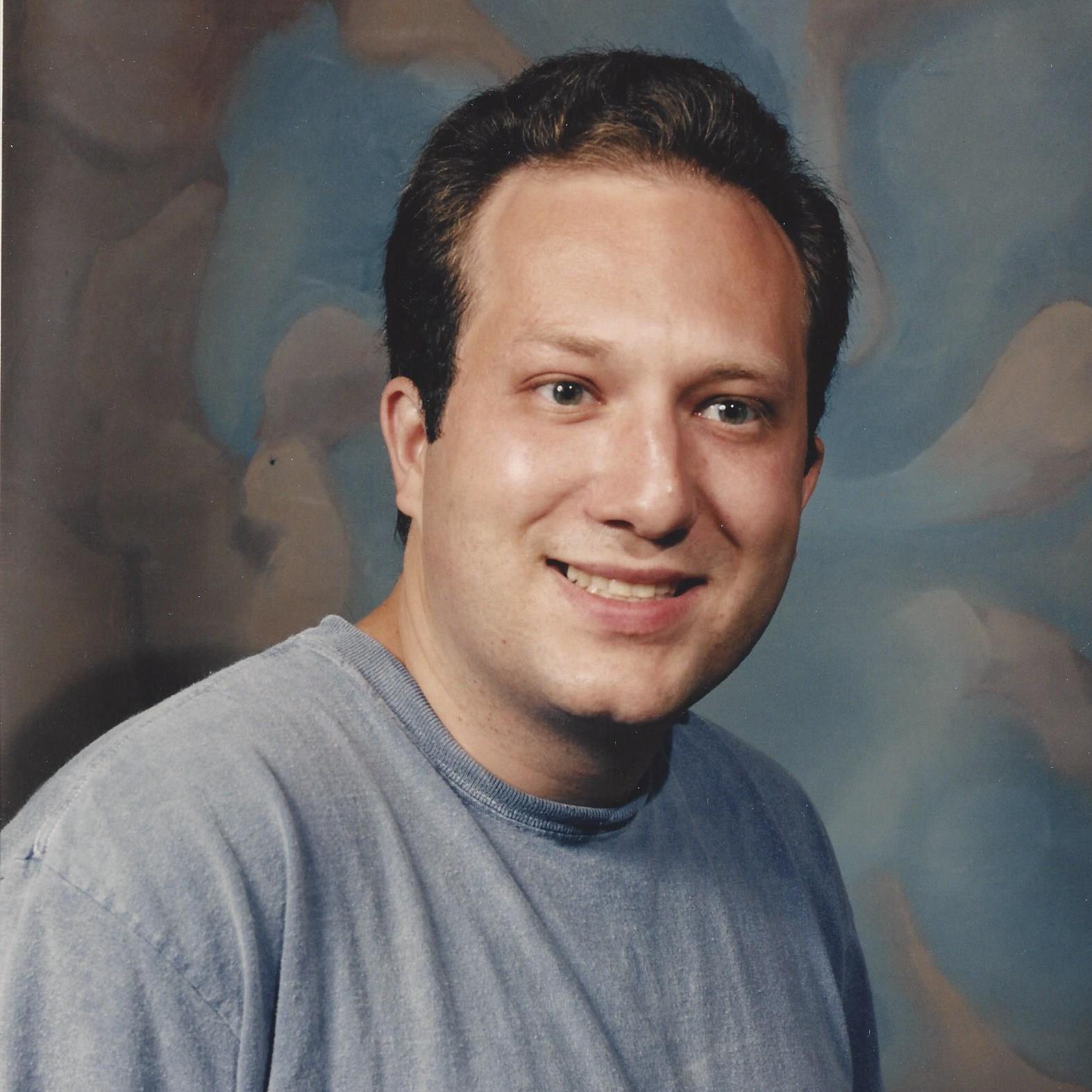 Matthew Grappone
In 2003, friends and family honored Matthew R. Grappone, by establishing a scholarship in his memory. The scholarhship benefits students in the School of Engineering and Applied Sciences, with preference given to those who work at UB's central computing services organization, Information Technology.
Matthew Grappone spent almost half of his too-short life in association with UB earning two degrees: a BS in aerospace engineering in 1987 and a BS in mechanical engineering 10 years later. He worked with UB's Information Technology during his time at the university. When he passed away unexpectedly at the age of 30, friends and family decided to name a scholarship for Grappone. His friend Kevin Shortt, also a UB alumnus, led the effort to develop "an everlasting gift for Matt through the school he loved." Matt's family, friends, acquaintances and relatives of Grappone contributed to the fund.
Patricia H. Garman, MS '79 and Richard E. Garman
Patricia H. Garman, MS '79, School of Nursing and Richard E. Garman were long time generous supporters of UB, in particular the School of Nursing and the School of Engineering and Applied Sciences.
Mrs. Garman spent her professional life in the mental health field. Before retiring she served as president of Counseling Specialists, her private counseling practice. She was also a former Assistant Professor in Psychiatric Nursing at D'Youville College. She was frequently honored for her leadership in cultural and community organizations, including those working on behalf of people with mental illness.
Dick Garman, former president and CEO of Buffalo Crushed Stone and ABC Paving Company was one of Western New York's most influential business leaders, Garman serves or has served on the boards of several professional and nonprofit organizations. Mr. and Mrs. Garman were philanthropists, and in addition to supporting UB, they also generously supported many other community organizations in Western New York.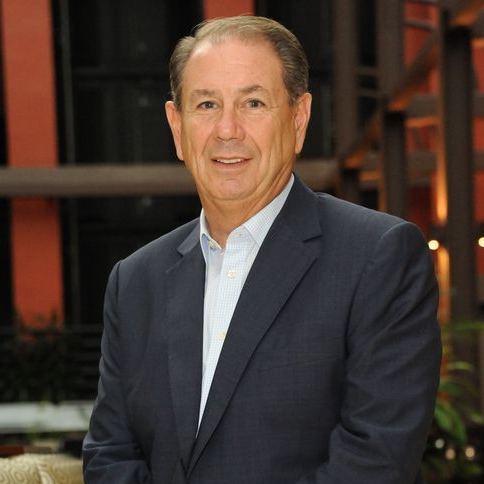 Paul Nussbaum, BS '67
Paul Nussbaum, BS '67 established a scholarship fund to assist financially disadvantated undergraduates in the College of Ars and Sciences, with preference to political science majors who are also first generation college students. Nussbaum is the Founder and Chairman of Waramaug Hospitality. He is the former Chairman Emeritus of Wyndham International, Inc., (NYSE:WYN), successor to Patriot American Hospitality, Inc. (NYSE:PAH). From 1991 to 1999 he served as Founder, Chairman & Chief Executive Officer of Patriot American Hospitality, Inc., a paired share real estate investment trust (and its predecessor Patriot American Group) which owned the Wyndham, Grand Bay, Malmaison, Summerfield and Clubhouse Inn proprietary hotel brands. Nussbaum took the company from owning one hotel in 1992 to the fourth largest hospitality company in the United States with approximately $7 billion in total capitalization. Nussbaum received his Bachelor's degree from the University at Buffalo and received his JD degree from Georgetown University Law Center. While at UB, he was active in the Spectrum, Student Government and was a member of Alpha Epsilon Pi. He recieved a UB distinguished alumni award in 2015, recognizing exceptional career accomplishments, community or university service, and research and scholarly activity. He currently serves on the UB College of Arts and Sciences Deans Advisory Council.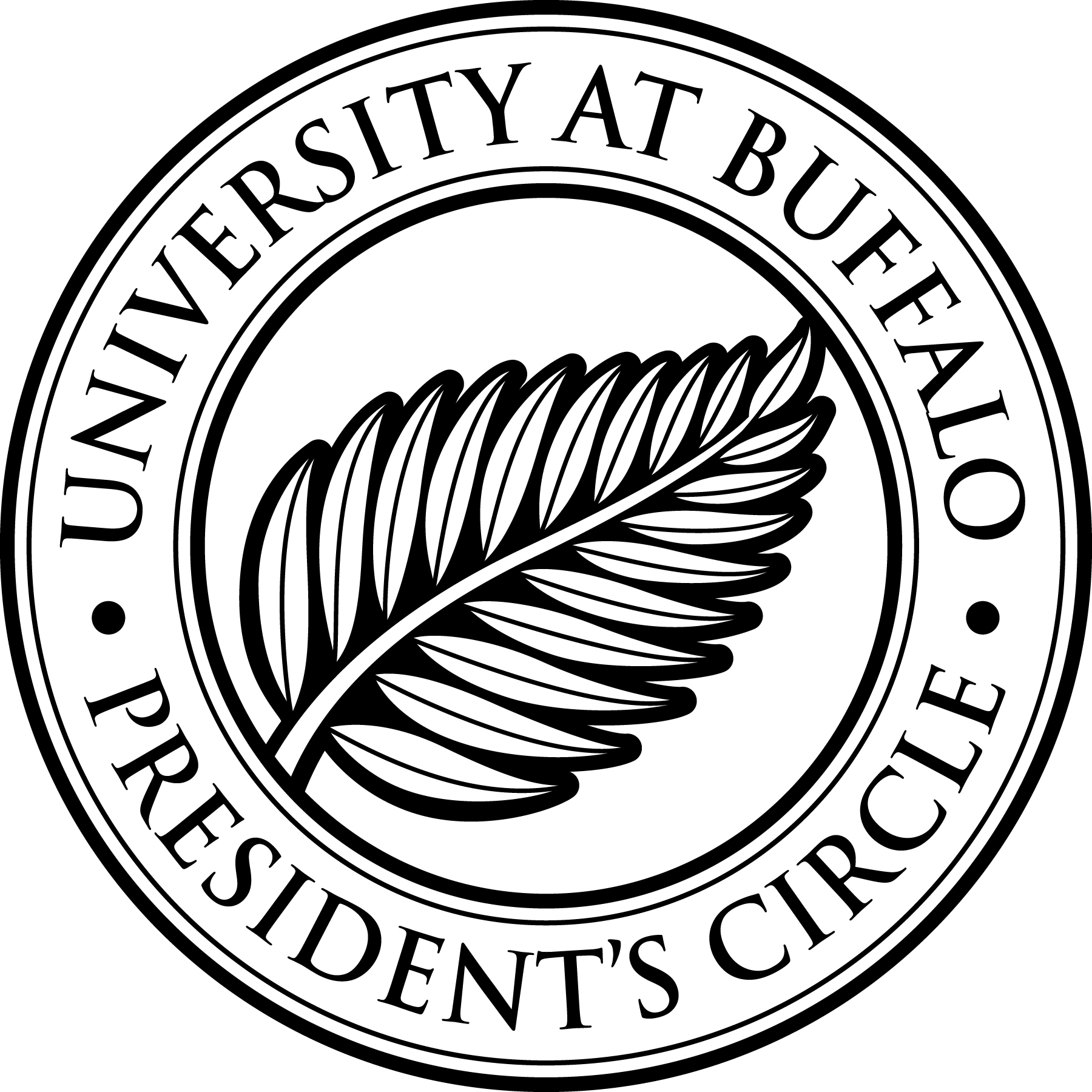 President's Circle
The President's Circle, established in 2013, consists of alumni and friends who generously support campus wide initiatives that bring prominence to UB, and provide impactful experiences for our students and results for our community.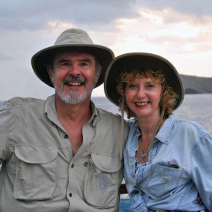 Roberta Stevens, MLS '74, BA '70, and George Stevens
In 2014, Roberta Stevens, MLS '74, BA '70, and her husband, George Stevens, established the Roberta and George Stevens International Educational Experiences Fund to support experiential learning opportunities, especially related to studying abroad, for students who are US citizens or permanent residents enrolled in the UB College of Arts and Sciences.
Roberta Stevens, a former president of the American Library Association, recently retired as an outreach officer at the Library of Congress where she served in various posts for 25 years. George Stevens works for the National Highway Traffic Safety Administration. As inveterate world travelers, they believe that experiencing other countries firsthand is the most direct route to fully understanding one's place in the world. The goal of the fund is to allow students to broaden their educational experiences and enrich their career opportunities by immersing themselves in different cultures and broadening their perspectives through study outside of the United States.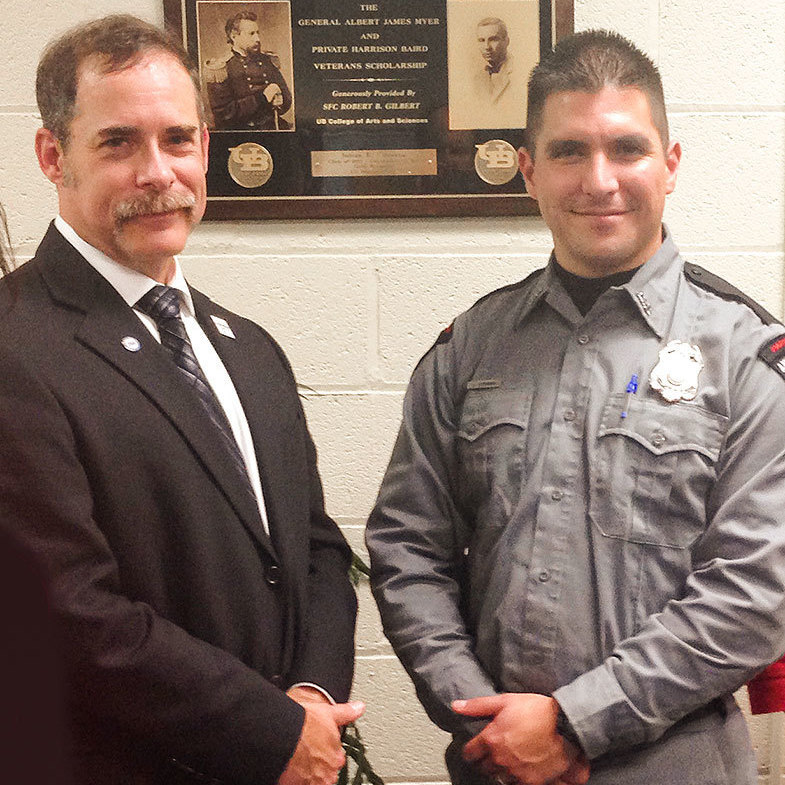 Robert Gilbert
US Air Force and Army veteran Robert Gilbert created a scholarship to honor two men: his uncle, Harrison Baird, a
World War II veteran, and Albert Myer, MD, an 1851 graduate of the UB medical school who founded the US Army Signal Corps. The scholarship in their name is awarded to UB student veterans enrolled in a major or minor within the College of Arts and Sciences. Although not a UB graduate, Gilbert wanted to thank all UB veterans, past, present and future with this gift. In his own words "My military service sensitized me to the sacrifices veterans make. Saying thank you, while appropriate, sometimes doesn't seem enough, so I wanted them to have a scholarship." This photo features Robert Gilbert, left, with 2014 scholarship recipient Julian Chinana, a US Marine Corps veteran and UB student. Chinana, an Albuquerque, New Mexico, native served in Iraq and Afghanistan from 2002 to 2006 was the scholarship's fifth recipient.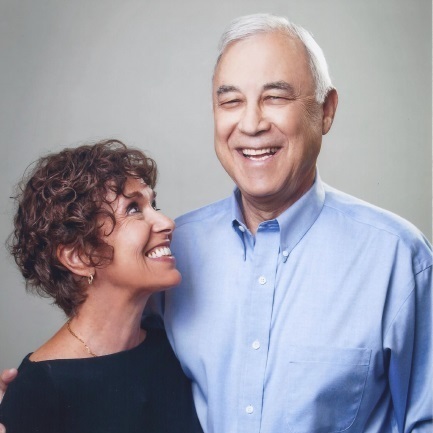 Saul Lerner, BA '60, JD '63, and Teresa Lerner '73
Saul Lerner attended UB for his undergraduate studies before graduating from the Law School with the class of 1963. He lived in the dorms, was very active on campus, and belonged to Beta Sigma Rho. He made many dear friends as both a student and resident advisor who he kept in close contact with until his passing in 2015. He enjoyed a 35 year career in law in Buffalo. Saul's wife, Terry Lerner attended Buffalo State College as a biology major. Afterward she attended UB and obtained a Masters in Education and, later, certification in math. She enjoyed a 28 year tenure at Amherst Middle School in Amherst, NY. Saul and Terry retired to Surprise, Arizona in 1998, where Terry still resides. Saul and Terry worked their way through school and understood the value of a dollar, but more importantly, the value of an education. Their hope was that this scholarship will provide assistance to students who are working toward achieving their goals.
SUNY Distinguished Professor George C. Lee, David S. Lee and Kelvin H. Lee
In 2014, SUNY Distinguished Professor George C. Lee and his sons, David S. Lee and Kelvin H. Lee, established the Grace Lee Dean's Scholarship in memory of Grace Lee, wife of George and mother of David and Kelvin. Mrs. Lee was a longtime member of the UB Women's Club. These scholarships are for SUNY Buffalo juniors majoring in an engineering discipline with a demonstrated financial need and who show excellent academic potential.
George Lee, now SUNY Distinguished Professor Emeritus in the UB School of Engineering and Applied Sciences, spent more than 50 years as a UB faculty member, serving as dean of the school from 1978-95. He was chair of the Department of Civil Engineering from1974-77 and director of the Multidisciplinary Center for Earthquake Engineering Research from 1992-2003. Among many awards and citations, he has received the Superior Accomplishment Award from the National Science Foundation (NSF), the Newmark Medal of the American Society of Civil Engineers and is a Member of the National Academy of Engineering. More recently, he received a 2006 Presidential Award for Excellence in Science, Mathematics and Engineering Mentoring. He has mentored 20 postdoctoral fellows, supported more than 30 international visiting scholars and guided nearly 50 PhD students and 75 MS students. A prolific scholar, he has co-authored four books and published more than 250 papers on structural engineering and mechanics, steel structures and earthquake engineering.
David Lee is Professor of Physics at Gordon College. He received his doctorate and master's degrees from the California Institute of Technology and his bachelor's degree from Princeton University. His interests lie in the processing and characterization of advanced materials, particularly metals. He is a serial entrepreneur having started, or been involved with, multiple start-up companies in addition to his commitment to education.
Kelvin Lee is the Gore Professor in the Department of Chemical and Biomolecular Engineering at the University of Delaware. He received his doctorate and master's degrees from the California Institute of Technology and his bachelor's degree from Princeton University. Working at the Delaware Biotechnology Institute, his research is focused on the manufacturing of biopharmaceuticals and treatments for Alzheimer's disease. He is also the Director of the National Institute for Innovation in Manufacturing Biopharmaceuticals, one of the Manufacturing USA institutes.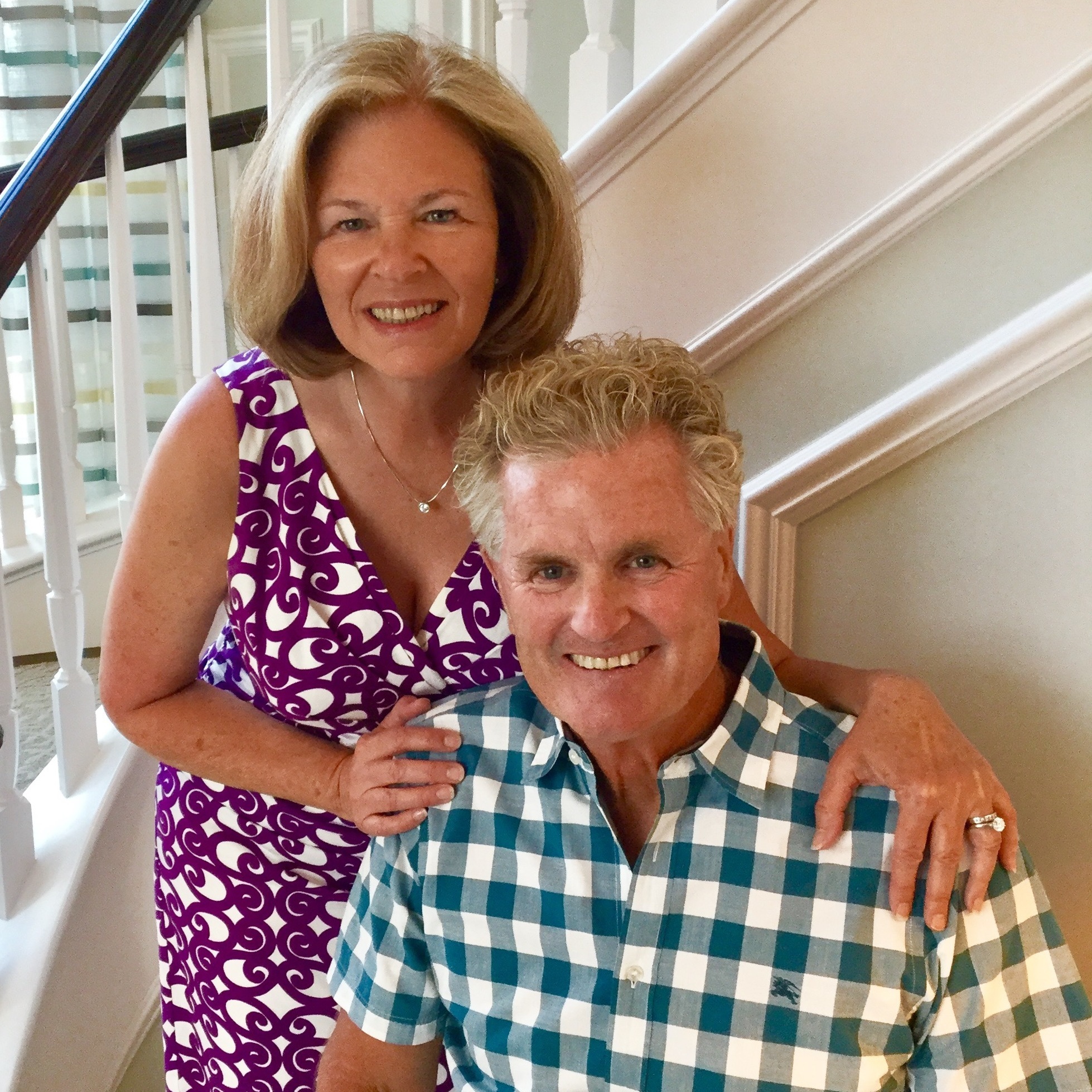 Timothy M. Harmon, BS '74 and Jill Harmon
The Harmon's desire to support the university education of young men and women who have been in foster care was kindled in 2007 when they became foster parents through the Emergency Shelter Home Program of Orange County in California. Tim Harmon is a Western New York native who, after studying mathematics and economics at UB, spent a career in retail, retiring in 2005 as president of Pacific Sunwear, a company recognized by the Wall Street Journal as one of the top-performing public companies in the decade 1995-2004 based on stock appreciation. The Harmons are now active with public universities both as volunteers and financial supporters assisting students who are emancipated foster children.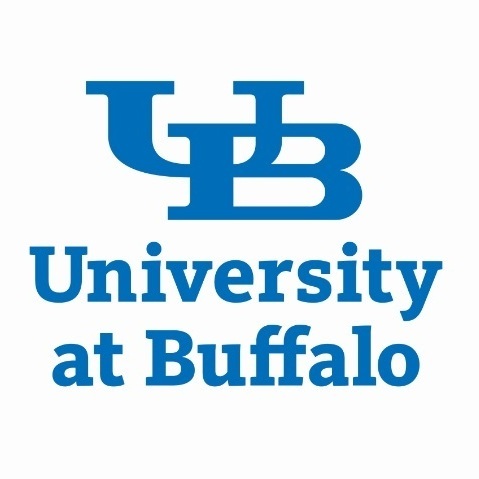 William C. and Annette L. Rock
In 1993, William C. Rock and Annette L. Rock, established an award that provides financial support to College of Arts and Sciences students enrolled in a UB study-abroad program. William Rock was a SUNY Distinguished Service Professor of educational administration at SUNY College at Brockport; Annette Rock was a dedicated nurse, wife, mother, and grandmother. Professor Rock dedicated his life to civil rights and to improving equality and access to education for minorities.